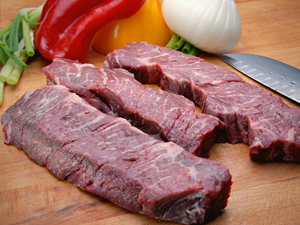 AngusMeats
Beef Tri-Tip Steaks, USDA Choice, 4-Pack
Regular price
$19.49
$0.00
Unit price
per
BBQ, Pan-broil, Skillet, Stir-fry!
This cut of beef has been referred to by a variety of names including "Newport steak," "Santa Maria steak," "Triangle tip," and "Triangle steak", but whatever you call it: one thing remains the same: the Tri-Tip steak (cut from the Tri-Tip roast) is a delicious, tender a breeze to prepare, and is typically one of the most affordable cuts off the butcher block, while being akin in flavor (and texture) the favorited Top Sirloin steak. 
For your safety all of our products are minimally handled, fresh-packed, vacuum-sealed, and flash frozen. All products have USDA stamp of approval and meet the highest standards for quality and freshness.
Features:
4-pack 8-oz Cuts (shape/individual weight varies)
Individually vacuum-sealed to maintain peak freshness 
Hand-cut fresh; then flash-frozen
Available for delivery or curbside-pickup 

Pricing subject to change
Special, limited run price
Special limited price:

4 x 8-oz steaks approx. $4.87 each ($9.75 per pound)
---
Share this Product
---