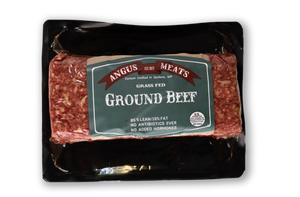 AngusMeats
USDA Inspected Grass-Fed Ground Beef, made with certified Organic Beef
Regular price
$27.56
$0.00
Unit price
per
All-natural, locally raised,100% grass-fed ground beef

Made with certified organic beef.
We are reinventing our Grass Fed Organic Ground Beef with a new label and new source- now from beef raised right in our backyard (well - not literally!) but close: North Idaho!
In an 85/15 lean-to-fat ratio vacuum-sealed in 1-lb packaging for your convenience. No added hormones, no antibiotics, no fluff. Just wholesome, 100% grass-fed locally raised ground beef.
Angus Meats keeps it copacetic: our plant is scrupulously inspected and regularly audited, and not to brag or anything, but our audit results hold record highs when compared to others in the industry. We feel like letting you know this might help you understand just how seriously we take our job. 
For your safety all of our products are minimally handled, fresh-packed, vacuum-sealed, and flash frozen. All products have USDA stamp of approval and meet the highest standards for quality and freshness.
Features:
USDA inspected

100% Grass-fed
No hormones
No antibiotics
Made with certified organic beef (nothing else)
Vacuum-sealed to maintain peak freshness
Frozen product
Available for delivery or pickup 
Ask us about deals on bulk purchases!
---
Share this Product
---